这是一个影视后期特效软件after effect的脚本面板,集合了众多好用的脚本,让你事半功倍!
一款极其牛X的AE脚本管理器,带着大量脚本,大约1000套左右的脚本, 此脚本为一键安装版、包括脚本内置预设。

单击下方链接下载脚本 插件:
273 Ae脚本管理器 动真格 中文版.zip
273.1 Ae脚本管理器 rd_ScriptLauncher 英文原版 无广告.jsx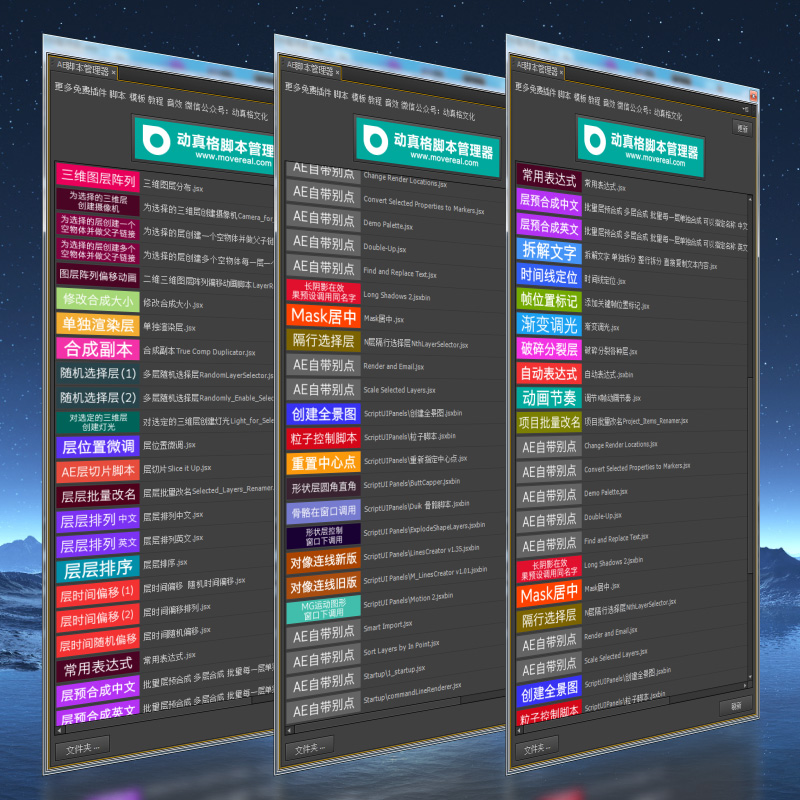 教学在这里:https://item.taobao.com/item.htm?spm=a1z10.1-c.w4004-14916971927.2.0pGns2&id=533305972140
Scripts in the ScriptUI Panels folder are designed with user interfaces that appear in a dockable panel, which allows them to be placed in any workspace and opened each time the application is launched. These scripts are accessed at the bottom of the application's Window menu.
Existing scripts that use a palette or window for their main user interface need to be adapted for use in a dockable panel; see the After Effects scripting documentation for details). Scripts that use dialog boxes are not as easily adapted.
You can add your own scripts to the ScriptUI Panels folder.
安装指导:如果你之前有下载脚本这种情况可以这样操作 觉得乱不敢删 只想用我提供的脚本 可以按下面操作
第一种:(纯净版)
1:ScriptUI Panels 文件下只保留About the ScriptUI Panels folder这个文本 其它全部删除
2:Scripts文件下只保留(instructional)。(support)。ScriptUI Panels。Shutdown。Startup。
Change Render Locations。Convert Selected Properties to Markers。Demo Palette。Double-Up。Find and Replace Text。Render and Email。
Scale Composition。Scale Selected Layers。Smart Import。Sort Layers by In Point。Why_the_parentheses_in_folder_names。
3:复制Scripts覆盖替换(盘符AE路径)Ae/Adobe After Effects CC/Support Files/Scripts即可
此方法属于纯净安装我提供的脚本
第二种:(乱七八糟版)
1:复制Scripts文件下的所有内容、粘贴到(盘符AE路径)Ae/Adobe After Effects CC/Support Files/Scripts覆盖替换即可
虽然方法很简单,但是此方法要包证你没有安装过脚本。
关于打开方法:打开AE在window窗口下找到AE脚本管理器